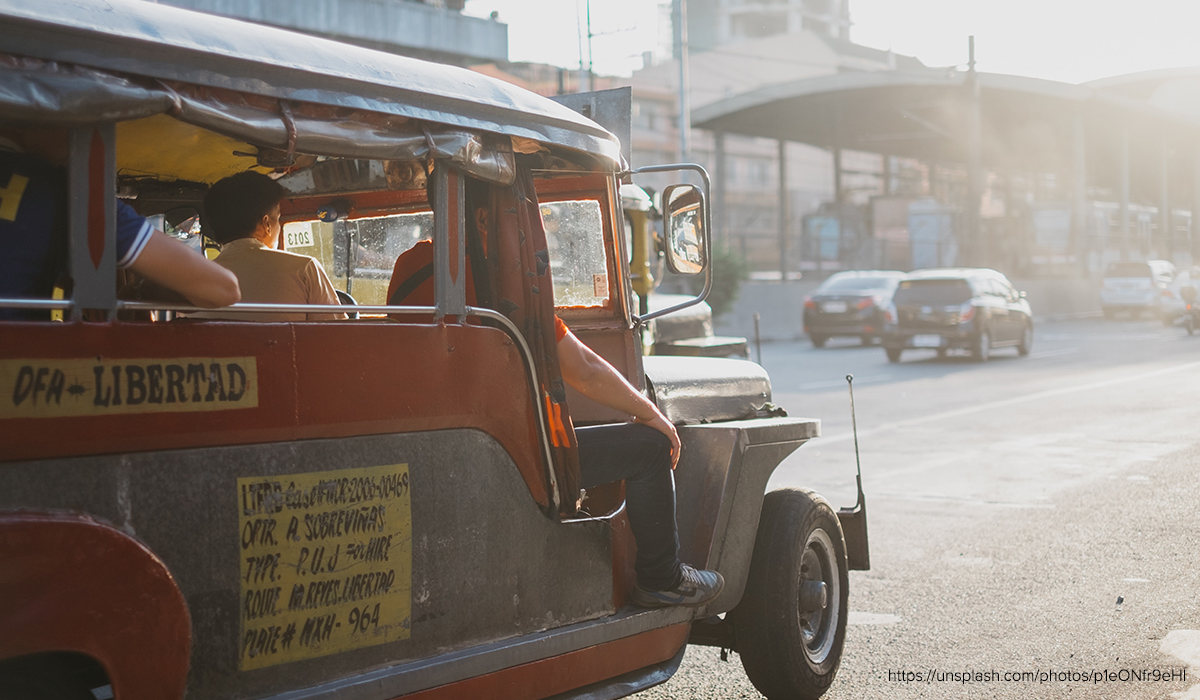 With more than 7,000 islands to count, the Philippine archipelago has diverse ways of reaching any given destination. And being original as they are, Filipinos did not just have any other vehicle in mind; it had to be one with the Filipino culture, and something the Filipinos could afford.
Today, the Philippines has several options to offer when it comes to transportation, which have become proofs of fulfilment of a promise, and made them accessible not only to Filipinos but foreign visitors as well. Travel along with Skyscanner in these means of transportation found only in the Philippines.
Jeepney
Filipinos liked to converse even if they don't intimately know each other, and the jeepney's interior made it easier. Its seats facing towards each other and its close proximity is perfect for a good ice breaker and making instant friends for a less-boring travel time.Made by a Filipino, for the Filipino. Jeepneys are a Philippine icon. Often appearing in flashy and colourful fashion, and present almost anywhere, they are considered as kings of the road. They are the primary transportation on land, especially since buses cannot travel in smaller areas.
If you are riding the jeepney for the first time, these basic pointers may help, though having a companion would be better: 1) If you are not sure of your destination, you can ask the driver where he can drop you off. Some drivers tend to forget to drop you off, it would help to remind or ask them every once in a while. 2) Saying "bayad po." You utter these words as you hand your money fare to the driver or fee collector. 3) Saying "para po." If you already know or have seen where your stop is, you say this to serve as a signal for the driver to stop the vehicle. For added precautionary measure, be watchful of your things, and be aware of your surroundings. People may be friendly, but they sometimes use this as distraction to steal your belongings.
Tricycle
Tricycles are less visible in major highways in the Philippines. Being smaller in size, they are used in short-distance travel, and are most commonly seen on the side streets, subdivisions, smaller cities and towns. In some instances, tricycles are hired to ferry people and merchandise from the market. You can ride tricycles along with other passengers, and pay an average rate, or you can ride it privately, which they also call "special", where you pay a higher rate or the equivalent rate of the number of passengers.
A tricycle resembles that of auto rickshaws in India and tuk-tuks of Thailand, only that a tricycle has its cab attached to its right side. It gives room for up to 7 people.
Pedicab
Man-powered, quiet, environment-friendly.
Also goes by the name "padyak" or "trikad," pedicab is a bicycle with attached side car, much like a tricycle, though they are a silent version, and uses human pedal power to transport passengers. This type of transportation is more commonly allowed to travel in some secondary streets, small towns and villages, or areas where jeepneys and buses are prohibited. Pedicabs have the capacity of 2 to 3 persons per ride.
Habal-Habal
In Metro Manila, it is an everyday picture that you see 1 to 2 persons riding on a motorcycle. However, it is not the case when it comes to the streets of Mindanao and some parts of Visayas.
Habal-habal is a highly improvised two-wheeled single motorcycle usually ridden beyond its passenger capacity. Since it is used as public transportation especially in areas with narrow roads, and steeper, rougher terrain, it could possibly carry up to 6 passengers, at the least. Yes, some people might have said that a habal-habal could accommodate more than 10 persons, with baggages ranging from vegetables and groceries to livestock like chicken yet to be included.
Calesa
A calesa is a horse-drawn carriage that used to be around the streets, but is now mostly ridden for tourists' use.
If you happen to visit Vigan, Ilocos Norte, a calesa ride completes the whole experience. Tour along and feel the quaint ambience in the Spanish lanes of the town. Manila, specifically Intramuros, also offers a calesa ride the old-fashioned way with your coachman serving as your tour guide, in complete costume and all.
Only in the Philippines. While in some ways this phrase makes people shake their heads with its several meaning, more often than not, this has made Filipinos proud. Because the Philippines is the only place in the world where you find not only several modes of transportation, but a journey forever etched in your heart.