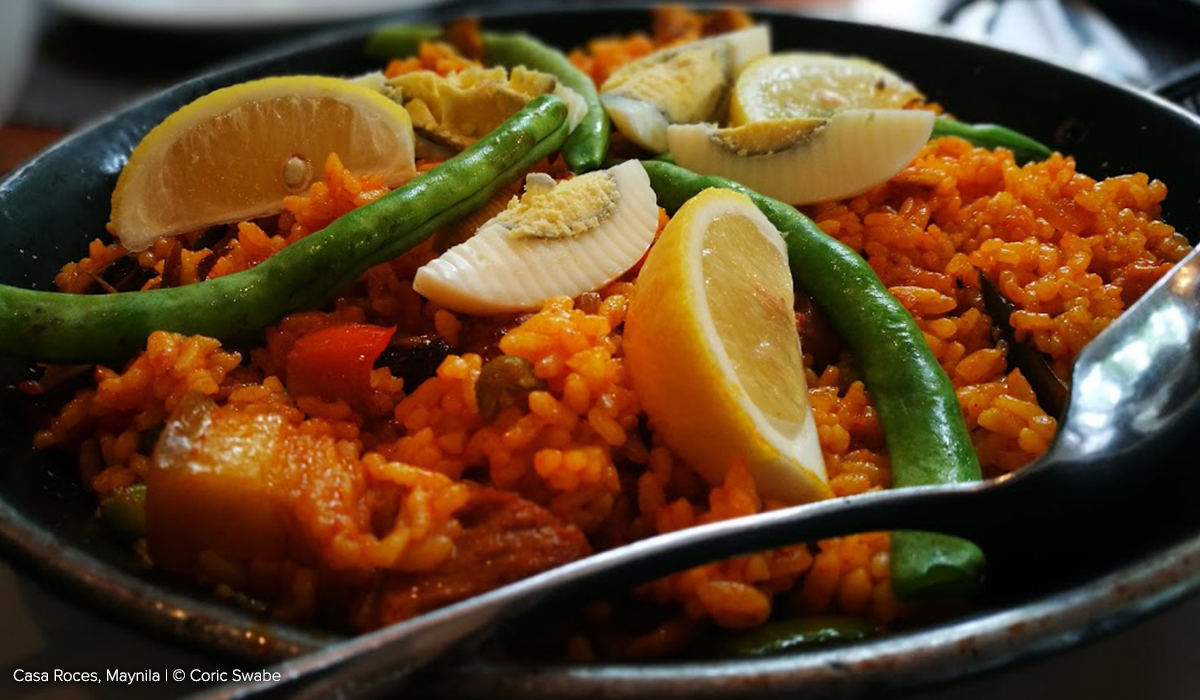 Manila's cuisine takes influences from Asia, central Europe and the cooking styles of the regions around it. As such, it is home to some of the tastiest food in the country. We line up the 10 best restaurants to find unique flavors in the Filipino capital.
Casa Roces
Casa Roces gives visitors a formal dining experience with a relaxed ambience and dishes crafted into cleanly presented fusion plates of Filipino and Spanish cuisines. The restaurant has the feel of a European brasserie, with high-end food and service but no stuffiness, despite its location in an historic 1930s house. A more recent acquisition is the Galeria Roces, which exhibits changing contemporary art shows has turned Casa Roces into a 'dining and arts venue'.
La Cocina de Tita Moning
La Concina de Tita Moning's menu was created by Suzette Montinola, who gathered her late grandmother's timeless recipes and began serving them to close friends and members of the public. After much success, the restaurant has become a popular place to experience authentic Filipino cuisine. Previously the family home, 'The Legarda Mansion' in which the restaurant is located doubles up as a museum. This experience is highlighted by quirky features such as individual bells on each table in case the efficient service falters. Begin with cocktails on the veranda for a memorable evening.
LULU Restaurant
Dishing up contemporary cuisine and inspired by traditional Filipino flavors, LULUspecializes in breakfast and brunch. It is a popular destination for healthy yet comforting food. Although it has an impressive selection for vegetarians, the restaurant is also known for its quality steak and small bites giving you little tastes from a variety of cuisines. With clean and modern decor both inside and out, the building is spacious and airy.
People's Palace
Fusing contemporary influences with classic Thai dishes, People's Palace is a renowned destination in Manila due to its zesty flavors and dishes presented in a minimalist fashion. The restaurant has a bar and garden lounge, which makes it ideal for romantic candlelit dining. Run by successful chef and restaurateur Colin Mackay, his high standards ensure the restaurant runs smoothly. The menu offers a selection of dishes from hot soups to spicy noodles and notable vegetarian options. Finish with one of the fresh juice cocktails to cleanse the palate.
Kashmir
Kashmir surrounds you with the aromatic delights of traditional Indian and Middle Eastern cuisine, with additional menus offering Malaysian and Arabian dishes. Knowledgeable staff are available to assist you in ordering your dishes, so those who are a little uneasy with extreme flavors and spices needn't worry. Fruity and spicy flavors are merged in order to create traditional Middle Eastern food, and the restaurant is known in the local area as one of the best for Indian cuisine.
Lugang Café
Courteous staff welcome you into 
Lugang Café
, for high-quality, fresh 
Taiwanese
 food. The clean and modern decor is understated and tasteful, and ideal for a formal lunch or dinner. The restaurant is run by the Bellagio Group of Shanghai and Beijing, who have used their previous successes to ensure the high quality of this establishment. Within the kitchen, eight expert Chinese chefs create dishes from the large menu, which the wine selection accompanies perfectly.
Café Ysabel
Café Ysabel provides a cozy setting that's practically a Manila institution. Set in an ancestral home, the restaurant offers an authentic Filipino feel, and consistently serves top quality food from breakfast through to dinner, with a range of homegrown and international flavors.
Kokoro Ramenya
Kokoro Ramenya is one of the best places in Manila to go for quality ramen noodles. However, the restaurant also specializes in a range of rice and sushi dishes. The menu offers up simple food and fresh tastes, including delightful Japanese deserts such as Uji Kinok. The contemporary decor emphasizes the peaceful ambience within the restaurant.
Gloria Maris
Feast on delicious dim sum at Gloria Maris, as well as an array of hot dishes, in addition to the popular Shabu Shabu. This restaurant serves consistently delicious Chinese cuisine and has become a reliable spot for both locals and tourists. Simple flavors complement the authentic Chinese menu which is executed flawlessly. Staff will go the extra mile to ensure that your meal is enjoyable.