Yesterday, the Commission on Higher Education (CHED) and the Department of Education (DepEd) had their respective budget hearings at the House of Representatives and Senate, respectively. During both hearings, legislators raised concerns regarding several budget cuts in the education agencies' budgets.
No more stipends?
During the CHED budget hearing, the P3-billion budget cut for the Tulong Dunong program was once again brought up following concerns that around 350,000 college students receiving stipend would be cut off from aid.
"That's not automatic. We expect that a lot of them will be qualified for scholarships and allowances with the implementation of the Free Tuition Law," Secretary Diokno said. "In any case, we still have around P1.19 billion in the proposed budget, should there be a need for it."
The budget for Tulong Dunong, CHED's need-based scholarship program, decreased to P1.19 billion in the proposed budget from P4.19 billion in 2018 General Appropriations Act (GAA). The P1.19 billion allocation is expected to fund almost 100,000 students next year.
According to the Department of Budget and Management (DBM), the budget for programs under the Student Financial Assistance Programs (StuFAPs) line item, which includes Tulong Dunong, was rationalized to make way for the implementation of the Free Tuition Law, particularly its Tertiary Education Subsidy (TES) component which was given an additional P11 billion allocation in the 2019 budget.
The Tertiary Education Subsidy component is allocated P27 billion in the 2019 proposed budget from an appropriation of P16 billion in 2018.
"If you're enrolled at an SUC or LUC, you are automatically qualified to free tuition and fees; if you're enrolled at a private HEI, you can apply for the same under the TES. Regardless of whether you're from a public or private school, you can apply for allowances for a whole range of your needs. The free tuition program is already very comprehensive in its coverage, and we're funding the law as it was written and passed by Congress," DBM Secretary Benjamin Diokno explained.
Under the TES, students enrolled in both public and private institutions can receive allowances for room and board costs, transportation, books, and school supplies. Those in private HEIs can even have their tuition or a portion of it covered by educational vouchers under the same program. There is also additional support for students with disability, or those in courses that require board examinations.
DepEd manages expectations for school buildings
Meanwhile, in the Senate, Senators Bam Aquino and Risa Hontiveros flagged the allocation for the Basic Education Facilities Fund (BEFF), which funds the construction of school buildings and classrooms, after being decreased to P34.74 billion in the proposed 2019 budget from its cash-based allocation of P105.46 billion in 2018.
The DBM attributes the reduced budget of the BEFF for 2019 to the spending performance of the DepEd in recent years and the shift to annual cash-based appropriations.
"As much as we want to build as many school buildings and classrooms as possible, we have to manage our expectations if we want to ensure results." Secretary Diokno explained. "Secretary Briones and I have already agreed on the DepEd budget."
In 2015, only P 39.3 billion have been obligated and only P6.68 billion have been disbursed out of the P53.88 billion appropriated to the fund. In 2016, P82.26 billion were appropriated, of which P59.08 billion were obligated and only P16.38 billion have been disbursed. In 2017, an additional P36.52 billion pesos or P118.78 billion were appropriated to the fund but only P113.65 billion were obligated, and only P7.39 billion were disbursed.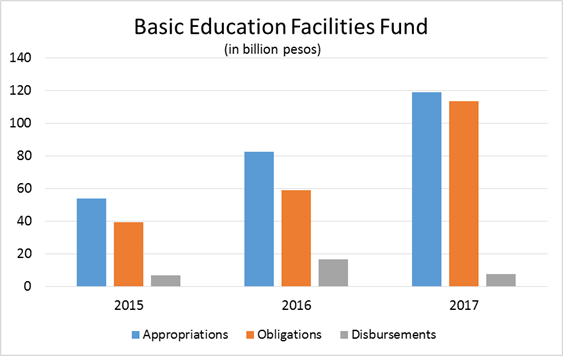 Chart 1. Appropriations vs Obligations vs Disbursements for the Basic Education Facilities Fund from 2015 to 2017, in billion pesos
With the implementation of cash-based budgeting for this coming fiscal year, the expectation is that the level of disbursements as a percentage of obligations would increase.
"Education is still a top priority. In fact, it receives the highest portion of our budget. These budget cuts are not without reason," the budget chief remarked.
Education continues to receive the highest allocation in the proposed 2019 budget with a total budget of P659.3 billion, up by P72.2 billion, or by 12.3 percent, from its cash-based equivalent of P587.1 billion in 2018.